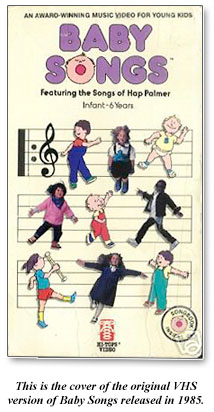 Baby Songs children's video series was created and produced by Backyard Enterprises, a.k.a. Backyard Productions, a company formed by Amy Weintraub and Brooks McEwen.

Amy and Brooks met in 1983 in a prenatal class when they were pregnant with their first children. They had both been involved in television production but had quit their jobs in the hope of staying home with their babies. Tired of singing "Twinkle, Twinkle Little Star" and "The Wheels On The Bus," they discovered the wonderful original children's music by Hap Palmer. Fans of MTV, they decided to contact Hap to create music videos for toddlers based on his original and entertaining songs. They formed Backyard Productions in 1985 in Amy's backyard garage - and Baby Songs was born. The idea of Baby Songs was to create videos that would keep young children entertained. They instinctively knew that young children love to watch other young children. Using that premise, Amy and Brooks decided to take children watching the videos to familiar places - playgrounds, kitchens, grocery stores, homes, and show young children just like the viewer in the videos. Each video contains over 100 children in over 20 locations. Baby Songs reflects the child's world and portrays issues that young children are concerned about like separation anxiety, sharing toys, getting dressed, tasting new foods, and more. Baby Songs is unique because it is one of the few children's video series that is not tied into the marketing of toys, movies and TV shows.

The original Baby Songs were produced in 1986. The videos were initially distributed by High Tops Video, a division of Media Home Entertainment, a Heron Communications Company. The logo was a picture of a red shoe with shoelaces. The distribution was subsequently taken over by Anchor Bay Entertainment, an independent distributor of DVDs and videocassettes, established in 1989. In September of 2002 Backyard Enterprises entered into an agreement with Fox Home Video, the current distributor of
Baby Songs.

There are presently five Baby Songs DVDs which use the music of Hap Palmer:
• Baby Songs Original
• Baby Songs Baby's Busy Day
• Baby Songs ABC, 123, Colors & Shapes
• Baby Songs Animals
• Baby Songs Goodnight

The music for these Baby Songs videos is published by Hap-Pal Music with music by Hap Palmer and lyrics by Hap Palmer and Martha Cheney. The songs are performed by Hap and many talented musicians and singers from the Los Angeles area. For a list of Hap's CDs that are the song sources for Baby Songs videos, please visit: www.happalmer.com/cdsourcerecordings

Fox Home Video does not distribute the VHS versions of Baby Songs and the manufacture of VHS Baby Songs has been discontinued. However, most of the songs from the original VHS series have been included in the DVD series in somewhat different configurations.
For example, the DVDs Baby Songs Original and Baby's Busy Day are a combination of songs from the original VHS videos Baby Songs, More Baby Songs and Baby's Busy Day.

Baby Songs was chosen TV Guide's pick of best children's home video and People Magazine's pick for hot new music videos for tots: Siskel & Ebert gave them "two thumbs up". They have also won numerous Parents' Choice Awards.

Please email us with your questions and suggestions about Baby Songs DVDs.